When it comes to helping injured animals, my heart holds a soft spot that can't be measured. This condition showed itself when I was quite young. As you know from previous blog posts, this is an inherited condition (precious gift) I received from my mother. I'm fairly certain that if my father wouldn't have objected so strenuously, Mom would have opened the front door to welcome in all the furry critters inhabiting the woods surrounding our home. Thinking back, I would have gladly set out extra plates on our table for them all.
Years later, my heart hasn't changed.  I'm the bird whisperer who cradles dazed birds in tissue-lined shoe boxes after they have hit the windows, calming them with soothing words. I'm the "strange lady" who has been seen purchasing baby mice from the pet shop where the defenseless darlings are sold as food for snakes. And I am the rescue girl who has climbed down window wells in spring to save tree frogs that can't make it up and out. Having shared this, I'm sure it won't come as a surprise that animal rescue stories, nonfiction or fiction like the one I am sharing today, are dear to me.
Title – The Storm Whale
Written and illustrated by – Benji Davies
Published by – Henry Holt and Company – 2013
Topics – Animal rescue, compassion, understanding
Opening – Noi lived with his dad and six cats by the sea. 
Every day, Noi's dad left early for a long day's work on his fishing boat. He wouldn't be home again till dark.
One night, a great storm raged around their house. In the morning, Noi went down to the beach to see what had been left behind. As he walked along the shore, he spotted something in the distance.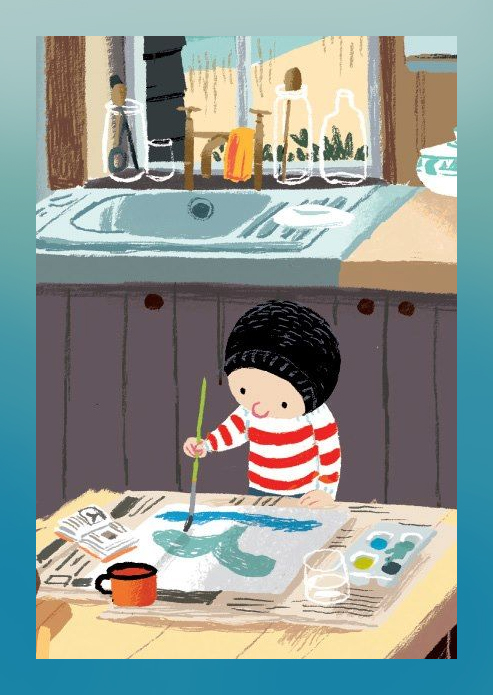 Amazon's Review –  View it HERE. Noi and his father live in a house by the sea, his father works hard as a fisherman and Noi often has only their six cats for company. So when, one day, he finds a baby whale washed up on the beach after a storm, Noi is excited and takes it home to care for it. He tries to keep his new friend a secret, but there's only so long you can keep a whale in the bath without your dad finding out. Noi is eventually persuaded that the whale has to go back to the sea where it belongs. For Noi, even though he can't keep it, the arrival of the whale changes his life for the better
 Why do I like this book? If you want a clear picture of Noi, the little boy in this story whose heart is as immense as the whale he sets out to rescue, take an ocean of kindness and stir in an endless river of thoughtfulness.
With his father out fishing at sea until supper time, Noi does his absolute best to make the baby whale feel at home. Aside from keeping the whale happy in his bathtub, Noi plays Handel's water music for the ultimate in listening enjoyment, gives him a reassuring touch on his back, and talks to him. (And this is all in the incredible illustrations.) I won't spoil the ending–the part that reveals what Noi's father does when he discovers the whale. I will, however, say that Noi's dad does not react as my father would have. Between the story and the illustrations, my heart experienced the squeeze of a perfect hug. I hope you'll read this loving book by Benji Davies.
To learn more about Benji Davies, the author and illustrator of The Storm Whale, click
HERE
.
Would you like to hear the music Noi played for the baby whale? Here is a recording of
Handel's Water Music
.
Listen
To hear the
song of whales
like the one Noi rescued, listen 
HERE
.
Art projects
How to make an
origami (paper folding) whale
.
Here
.
How to
upcycle
an egg carton to make a super cute whale.
Here
.